Welcome to Troy Fence
For all your decorative, functional or architectural projects. Add wrought iron or aluminum to your home. Troy Fence can meet your needs now and in the future. Choose from our standard designs or allow us to custom design a railing, gate or fence system for your needs. We can also work with your builder or architect on any size project.
Introducing the New Aluminum Fencing System from Troy Fence.
Perfect for Pools, Backyards and Railings. Troy Fence Aluminum is the ultimate and most affordable fence available. This wasp/insect free system is unique within its design. Beware of other products that allow perfect nesting for buzzing pests. No exterminator needed here!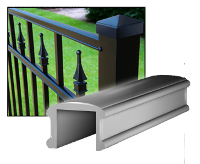 Serving The Tri-county Detroit Area
Including Washtenaw, Livingston and St. Clair counties.
All products made in the U.S.A.